BET mailing list
Submit your email

BET on Twitter
Loading feed...
Charity number: 1077161
Company number: 3724349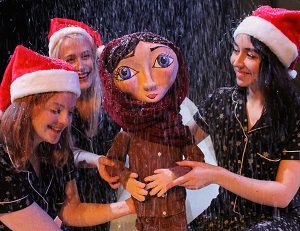 A magical and mischievous twist on this well-known tale, complete with puppetry, Christmas carols and audience interaction.
It is Christmas Eve, snow litters the ground and the little girl is alone. She is desperate to get warm so she lights the matches that she has been selling. With each match she is transported by its warmth into the scenes behind the glass. She becomes a part of the festivities, meeting father Christmas, playing in the snow and eating the most delicious feast but with the light of each match they fade and are just beyond reach.
Using their unique combination of visual storytelling, live music and object work, Moon On A Stick transform the stage into a stunning snowy spectacle. This beautiful, playful production is suitable for ages 3+ providing a perfect Christmas show for a younger audience and a joyful retelling of a winter classic.
The performance on December 13th will be a relaxed performance.
PLEASE NOTE: The Little Match Girl is now fully booked
School matinees
15/12 11.00am - FULLY BOOKED
15/12 1.45pm - FULLY BOOKED
16/12 11.00am - FULLY BOOKED
16/12 1.45pm - FULLY BOOKED
Reviews

A charming and engaging children's show that kept the young audience enchanted and laughing throughout.