BET mailing list
Submit your email

BET on Twitter
Loading feed...
Charity number: 1077161
Company number: 3724349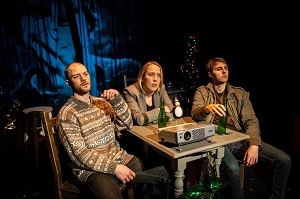 On the anniversary of his death, a decade after the event that stole their last Christmas together, three friends meet to commemorate the life of the one they lost.
Trying to overcome the distance that life has put between them Dan, Sally and Dave attempt to piece together the relationships they thought they'd left behind. They soon realise that their memories are only one version of the past and that one of the hardest decisions is choosing between who you are and who you once were.
Last Orders explores the loyalty of childhood friendships and how, with life's experiences, we all grow up to be something we weren't.
Last Orders is a new play by Lucy Laing and there will be a post-show discussion after each rehearsed reading.
Tickets are FREE but must be booked in advance to guarantee availability. Please call 020 7701 0100 or email boxoffice@blueelephanttheatre.co.uk to book your tickets.