BET mailing list
Submit your email

BET on Twitter
Loading feed...
Charity number: 1077161
Company number: 3724349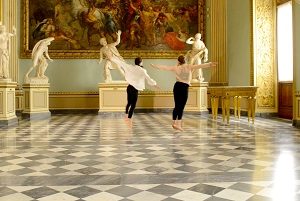 Inter Pares Project is a duet between international dance artists Agnese Lanza and Julie Havelund-Willett.
This piece forms part of an ongoing choreographic research project, which was launched in 2013 as part of a residency at S P A C E @ Clarence Mews. The research is embedded in the performances, and the performances feed directly back into the research, focusing on presence and the act of attending to detail. This performance weaves in and out of set and spontaneous movement, drawing direct inspiration from the architecture and audience of Blue Elephant Theatre.