BET mailing list
Submit your email

BET on Twitter
Loading feed...
Charity number: 1077161
Company number: 3724349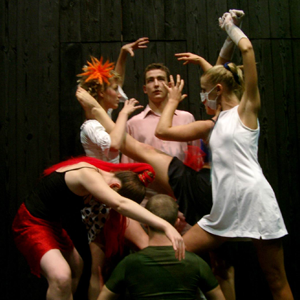 The Divine Comedy
In The Divine Comedy we are faced with the afterlife, where man must re-judge his concepts of responsibility, trust and madness.
Costumes: Tom Wennerstrand
Dancers: Helen Brushett, Ella Knight, Filip Krenus, Ayanna Prevatt-Goldstein, Ted Sikström, Janine Streuli, Claire Suarez & Alex Wood
Just Don't
In Just Don't we enter a world where touch is forbidden, and we follow four couples' journey into discovering if they can love each other without any physical contact.
Costumes: Evdokia Veropoulou
Dancers: Helen Brushett and Anne-Maarit Kinnernen; Filip Krenus and Claire Suarez; Ayanna Prevatt-Goldstein and Janine Streuli & Ted Sikström and Alex Wood.
Photographer: Tina Engstrom
Polyamour Me
Polyamour Me presents us with a sexually deviant world, where one person is never enough.
Dancers: Helen Brushett, Anne-Maarit Kinnernen, Ella Knight, Ted Sikström, Claire Suarez & Alex Wood
Press

"For dance audiences it [the Blue Elephant] can be an intense experience - especially if you're used to studying abstract geometry from the heights of the upper circle. These are real, powerful, bodies, right in front of you, complete with flesh, discernible faces and flying beads of sweat."