BET mailing list
Submit your email

BET on Twitter
Loading feed...
Charity number: 1077161
Company number: 3724349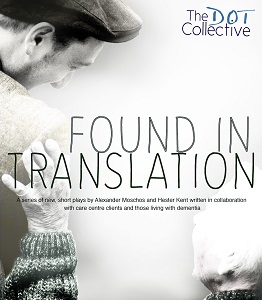 Found in Translation is a series of short plays drawn from theatrical storytelling workshops carried out by The Dot Collective at care centres in the South East.
Characters, places and poetry were created. Memories, music and thoughts were shared. These one hour workshops found many magical stories from the dynamic minds of the clients, regardless of age, disability or dementia. Playwrights Alexander Moschos and Hester Kent developed some of these ideas into this series of short plays.
These plays are collaboration between the many minds met during the workshops and the playwrights.
Reviews

"One of the best monologues I've had the privilege to see. Period."