BET mailing list
Submit your email

BET on Twitter
Loading feed...
Charity number: 1077161
Company number: 3724349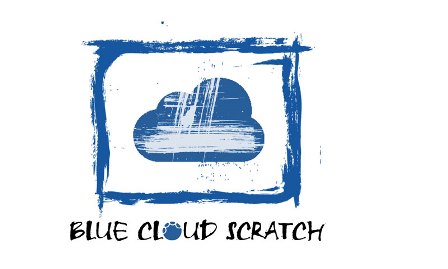 Blue Cloud Scratch is an exciting new dance scratch night, showcasing works in progress from a diverse range of choreographers, and is curated by Blue Elephant Theatre and Cloud Dance Festival. Blue Cloud Scratch aims to encourage and provide emerging dance artists with opportunities to present their works in progress and receive feedback from audiences and peers.
For more about the Blue Cloud Scratch and Cloud Dance Festival, click here.
Inconnu (Unknown)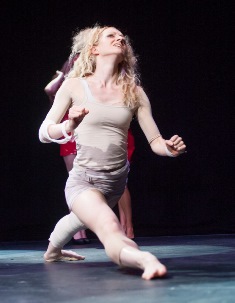 Choreographer- David Murley
Dancer - Briar Adams
Photography - Jane Hobson
In its Research and Development phase, Inconnu (Unknown) embarks on the journey of an individual's mental breakdown. Often, the task of getting out of bed can be a triumph. The piece toys with the struggle of mental collapse and the ongoing thread of a deep-rooted sense of internal self-preservation and survival.
Former dancer of The Royal Opera, English National Opera, Grange Park Opera, The Dallas Opera and Glyndebourne Festival, and Touring Operas. David also worked in film, children's theatre and was Artistic Director Of his own dance company, MurleyDance, for four years. He has also previously choreographed for London Studio Centre.
Bridie Gane - One Hit Wonder
One Hit Wonder is a solo show that delves into the history of women in entertainment. Bridie intends to channel the lives and personas of unconventional women that entertained the masses, reflecting on current views of females on and off stage. One Hit Wonder, which has already been shared as a draft at Dance Base's Spring Showcase and Buzzcut (2017), will be a nostalgic, riotous and retro-subversive solo that celebrates that unique wonder of women who perform.
Bridie Gane is a British choreographer and performer, creating independent solo and group work of a unique, retro theatricality. After training at the Northern School of Contemporary Dance, Bridie moved to Berlin to pursue her interest in choreography. Her first solo choreography, BIM BAM BUM (2013) won several awards including the Audience Prize and the title of the Best German Dance Solo at the Euro Scene Leipzig Competition. Bridie recently moved to Glasgow, where she is now based.
Konstantina Skalionta - Land(e)scape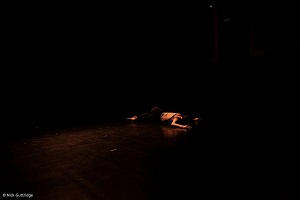 Choreography/ Performance: Konstantina Skalionta
'How long we have to go I am not sure...what I am sure is...that we need to keep on walking..' A journey through accumulated memories and emotions unlocked through the act of walking.
Konstantina Skalionta has been making performances in an attempt to explore the human condition. She has collaborated with various fine artists such as Laura Elias and Bea Bonafini in bringing visual arts and dance together.Her work has been presented in various festivals in UK and Cyprus, amongst them Resolution 2016,2015,2014, Fiver Fridays (Chisenhale Dance Space), Women of Mass Destructon 2 (Rich Mix), 15th Cyprus Contemporary Dance Platform (Rialto).
Thank you to Alice Laidler (dancer) who was part of the creative process for the duet version of this performance
Shivaangee Agrawal - This Junction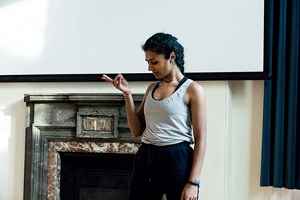 Mentoring by Choreographers Mayuri Boonham and Yachao Zhu.
Music by Ben Pearson.
I encountered life on those streets as an outsider. As I walked, I was sensitive to both the overwhelming visceral experience and the theft of my personal agency. I began to yield to the streets, and they unfolded for me. It became more difficult to distinguish the ugly from the beautiful, my reality from theirs. This is about fighting for space and finding my place amongst the native inhabitants of this urban chaos.
Shivaangee Agrawal is a Bharatanatyam dancer by training, currently studying contemporary technique, choreography and choreology at Trinity Laban Conservatoire of Music and Dance. Drawing on various artistic experiences from Tokyo to Bangalore, she aspires to exploit the nascent potential of Bharatanatyam to be a contemporary movement practice.
Lucidez Dance - Grief
Choreography, performance and costume: Lucia Schweigert
Music: Richard Wagner
Grief is a natural response to the death of a loved one or a loved life. It is a human ritual and this work is a dance about how it's necessary and helpful to grieve when you have to deal with a seemingly unbearable situation.
Lucia Schweigert is a German-Chilean dance artist intrigued by female, cultural and national identity. She works as a dancer and choreographer and she is the co-founder of Kaleidoscopic Arts. Her work has been presented at Chisenhale Dance, Cityscapes, Dance Film Festival UK and CrisisArt Festival among others.
Tora Hed - Between Horses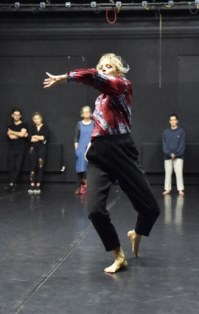 Choreography/ Performance: Tora Hed
Between Horses is an ongoing solo project that Tora started in 2016. The work explores the physical memory that's left after an action. In this piece Tora has been acknowledging what happens to the space where repetitions and echoings accrue.
Tora Hed is an independent choreographer and dancer, based in Leeds. She graduated from Northern School of Contemporary Dance 2015 and received the Carolyn Woolridge Outstanding Performance Award. Tora was successfully chosen to take part in Exit Visa 2016 at The Place. Over the past two years Tora has made works from solo to extended pieces and collaborated with other dance, music and film makers.
Kane John Mills - Remnants (a Triple Bill)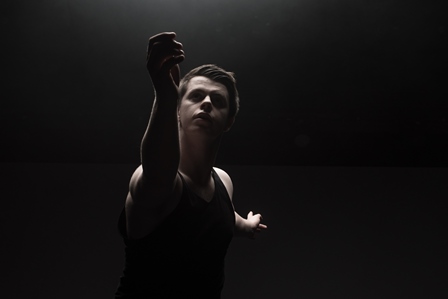 Choreography/ Performance: Kane John Mills
The individual works' titles are The Mask You Wear, It keeps me up at night. & Divulge.
The Mask You Wear is heavily influenced by Kane's long-term health conditions, delving into the façade that people create in order to maintain a false but more idealistic perception of themselves. What happens once you no longer have it in you to sustain this front?
It keeps me up at night. examines an imagined thought process that could occur if someone you knew went missing.
Divulge shares honest & dishonest things that no longer have to stay unsaid.
Recent NSCD graduate Kane John Mills is a Plymouth-born emerging choreographer and dance, theatre and installation artist. He has twice been the recipient of PDSW's Young Choreographer's Award, enabling him to create two works with mentorship and funding. He is also passionate about psychology, writing and proofreading/editing and aims to have his own inclusive company in the future.
Promotional Image for 'The Mask You Wear' taken by Matt Austin Photography.