BET mailing list
Submit your email

BET on Twitter
Loading feed...
Charity number: 1077161
Company number: 3724349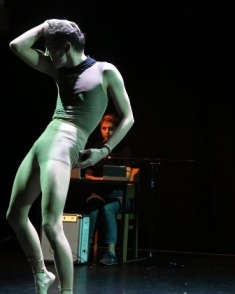 Hawk Dance Theatre is an exciting, emerging company based in the North West and presenting their first double-bill of new work.
(we)SINK (mentored by Gary Clarke)
(we)SINK is a dance performance exploring climate change and human psychology. Inspired by psychological mechanisms that make humans disengage from climate change challenges, this new work, choreographed by Josh Hawkins, explores feelings of distance, doom, dissonance, denial and identity in response to our changing climate. Performed by Emmie Coxey and Freya Thomas, this captivating duet questions whether these defence barriers can be broken and if we will ever truly connect to this topical issue.
Fish Tank
Fish Tank draws similarities and compares the life of a goldfish in its tank to the denials we face when dealing with change. Fish Tank explores different feelings linked to change, and imagines every human has their own 'fish tank' full of questions, responsibilities and problems. Fish Tank is a conversation between live spoken word, text, music and dance.
Please note this production will use flour during the performance.
FISH TANK by Hawk Dance Theatre from Hawk Dance Theatre on Vimeo.