BET mailing list
Submit your email

BET on Twitter
Loading feed...
Charity number: 1077161
Company number: 3724349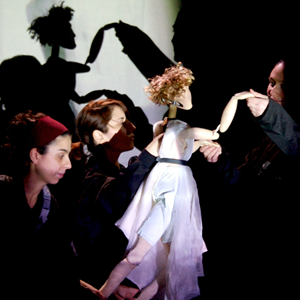 The Soldier With No Name is based on the story of French surrealists Claude Cahun and Marcel Moore - two female artists in a male-dominated world - and their resistance campaign against the Nazis in occupied Jersey.
Told through puppetry, dance, physical theatre and storytelling, the piece explores our ideas of identity and the relationship between art and socio-political change.
The Winged Cranes was created by Alle Valle in 2007 to explore themes related to identity and the relationship between art and social political change through the use of puppetry and physical theatre. TWC wants to open borders in society, through the stories of people, places and time. It is an open company that wants to work on specific projects with other artists through collaboration and mutual understanding.
Press

"Dynamic and wholehearted, this work succeeds in giving a sense of the playful inversion that was the cradle of surrealist performance and thought" www.fringereview.co.uk