BET mailing list
Submit your email

BET on Twitter
Loading feed...
Charity number: 1077161
Company number: 3724349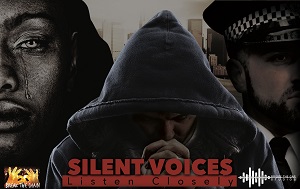 This production (based on the "Silent Voices" book by Jonathon Toy) tells the story of a young man, Anton, whose affiliation and friendships with those caught up in gangs ultimately led to his tragic murder in Peckham. This true story is told through the eyes of those who knew him, those involved in his murder and those involved in bringing about justice. These perspectives provide the opportunity to recognize and resolve the real reasons driving gang violence in our cities.
Silent Voices tells us what life is like in the forgotten places the rest of us walk past every day, but though we walk down the same streets we walk though different worlds. We are forced to confront the ways that early experiences of war, gang-related brutality, acute domestic violence, parental sexual abuse, profound neglect and unrelenting poverty have set them up for a life 'on road'. It investigates why people become involved in gang violence and the impact it has on our communities, told through the - often silent - voices of those involved.
Tickets are free and can be booked through eventbrite here.