BET mailing list
Submit your email

BET on Twitter
Loading feed...
Charity number: 1077161
Company number: 3724349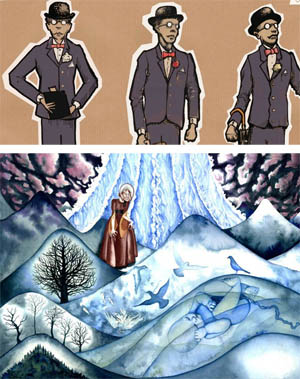 The exhibition features an eclectic range of work from artists Max Dorey and Marta Rocamora.
Dorey exhibits a collection of stencils as well as pieces from Tales from the Red Bar , an on-going short story and illustration project Dorey works on with Leeds based writer Adam Z. Robinson. Sometimes the illustrations are inspired by the tales - sometimes the tale is inspired by the illustration.
Marta Rocamora's purpose in Art and Life is to be real, to truly connect with what is inside, around and beyond her, to move and be moved to positive action, to share and to learn. She enjoys painting with watercolours on Arches paper: She finds magic in the satin-smooth surface, the flow and movement of brush and water. The random element this medium allows, combined with the capability to work with delicate, minute detail make it her ideal choice for bringing out the essence of dreams.
The private show of this work will be on Thursday 25th of April from 6pm.