BET mailing list
Submit your email

BET on Twitter
Loading feed...
Charity number: 1077161
Company number: 3724349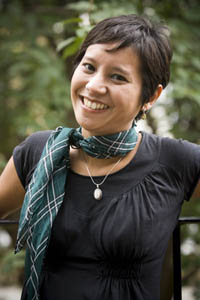 I was fortunate enough to interview Jasmine Cullingford, Artistic Director at the Blue Elephant (BET), and find out a little more about BET, the theatre world, lovely old Camberwell and an embarrassing story or two.
What makes Blue Elephant different from other theatres?
The fact that we defy categorisation… Our work can't easily be pigeon-holed, although it is usually non-naturalistic and off-beat. We also don't just specialise in 'theatre' in the traditional sense, but value all art-forms, from music to visual art, creating theatre which crosses genres, from dance-theatre to 'concert-theatre', a term newly coined for Sonata Movements earlier this year which was simultaneously a recital by pianist An-Ting Chang and evening of plays directed by Jude Christian.
Describe BET in 3 words…
Ambitious, alternative, challenging
How did you get into Artistic Directing?
Through hard graft and an obsession with theatre from an early age! I did my school work experience placement at the Contact Theatre, Manchester, and during my student days was a Rep for the Royal Shakespeare Company and an intern at the Royal Court. After graduating I worked at the Orange Tree, Richmond and then Theatre Royal Stratford East before coming to the Blue Elephant Theatre. Despite their completely different remits, I loved the work of all of these companies – what they have in common is how good their shows are. I have tried to reflect this appreciation for all forms of theatre as Artistic Director of BET, by programming eclectic seasons united not by theme or genre but only by quality.
Describe yourself in 3 words…
Small, sociable and smiley :)
What's the best thing about working at BET?
Being able to support amazing people to develop their art and careers. I love hearing how well our 'alumni' are doing, knowing we made a difference by giving them vital opportunities early on. Artists and companies we have nurtured are many and varied, including: Evening Standard Award-winning designer Mamoru Iriguchi, Paul Morris (who won the OffWestEnd Adopt a Playwright Award), Levantes Dance Theatre (who won the Samuel Beckett Theatre Trust Award), and Bush Theatre Associates Theatre Ad Infinitum.
…and working life in Camberwell?
Being part of the creative community in South London. A lot of people we work with live a short walk or bike ride away and I'm always bumping into them and stopping for catch ups on street corners! Being close to but not in central London is a bonus too. I can get into the West End very quickly, but can bypass it on days when I want to stay away from the hustle and bustle.
How do you select the productions shown at BET?
We receive proposals in lots of different forms, from an unsolicited script from a writer, to footage of scratch performances, to invites to see productions from companies whose next piece we might programme. We also have a lot of returning companies with whom we have an established relationship and can sometimes programme their work just from an idea that's in their head. All our work is new so every show is a risk, but it usually pays off!
What does the BET do to encourage community involvement?
We have a thriving participation department which works with local residents from primary age upwards, delivering workshops in schools, providing after-school and holiday activities and producing community plays. All our education and outreach work is at no cost to participants. We also have a discounted rate for Southwark residents on all our productions.
How has BET changed over the years?
The theatre used to have an international remit, but since starting to co-programme the venue in 2006 and becoming Artistic Director in 2009, I have focused on home-grown talent: London-based, and Southwark in particular wherever possible.
Is your audience made up of the general London public or mainly south Londoners?
Much of our audience is South London based (because North Londoners often don't seem to want to venture more than a minute from a tube station!) but we do get London-wide theatregoers as well. There aren't many venues which feature the cross-platform & physical theatre work we do, so people do travel to come and see it.
What's the future for the Blue Elephant? What are your wildest plans and hopes for 2013?
The theatre goes from strength to strength and, as ever, we hope to continue in this vein! We don't programme too far in advance as we would hate to have to refuse an amazing project because of lack of space, but we're very excited about our new season which has just opened. We're working for the first time with physical company Glass-Eye Theatre, devising company Tattooed Potato (beat that for an unusual name!) and Joon Dance. We're building on our relationship with Spanish company Little Soldier Productions, and we're welcoming back Lazarus, our resident classics company, and Lecoq performer David Ralfe – working with newcomer Hannah Moss. We are also starting work on our in-house show, a one-man adaptation of Mervyn Peake's 'The Boy in Darkness' with Gareth Murphy, directed by Aaron Paterson.
What's your favourite London theatre/play?
I love outdoor theatre (when it doesn't rain!) and festivals where you can see a variety of work, often site-specific. So I always try and get to see Steam Industry's work at the Scoop, the Watch This Space season at the National and the Greenwich & Docklands Festival. I also enjoy going to other venues specialising in cross-art-form work such as Kings Place & the Barbican, as well as seeing ENO's innovative work at the Coliseum.
What is your favourite place in south London and why?
Ooh, there's definitely more than one so I'm going to have to choose a few! I think the Horniman Museum is fab (and free!), with its stuffed animals and instrument collection vying for your attention. I love the Bonnington Cafe in Vauxhall, a co-operatively run vegetarian cafe where you can eat delicious and cheap home-made dinners, but with other people making the culinary efforts! I also like the House Gallery & Cafe in Camberwell where you can do food and culture at the same time!
What do you like to do on your day off?
I'm not one to stay at home, nor to stay still for very long, so days off are usually packed (much to my husband's chagrin! I do allow us a lie-in at least!). Typically I might go on a walk exploring areas of London I don't already know, hoping I might find a hidden museum or gallery to get a bite to eat at and then look at their collection, and then meet friends for an evening out at some arts event.
What advice do you have for theatre newbies?
Get some good work experience… This will help you build contacts and gain an invaluable working knowledge of theatre. Sometimes placements can lead directly to paid work too. Southwark Playhouse Associate Director David Mercatali started his career as a volunteer with us, going on to assistant direct and then direct shows with us. Also see as much theatre as you can (it always helps if you have seen work by companies before you apply for jobs with them) and not just of one kind or at one theatre – go out of your comfort zone: this will either broaden your tastes or help you appreciate your preferences more and enable you to talk knowledgeably about theatre you do and don't like.
Dinner before or after the theatre?
I'm going to sit on the fence on this one… Shows at BET usually start at 8pm and end at 9.30pm so you can fit in dinner either side!
Any embarrassing stories you would like to share with us?
In the middle of leading a post-show discussion once, I realised I had a big hole in my tights and had to position myself in such a way that it couldn't be seen. I looked like I needed the loo the entire time!